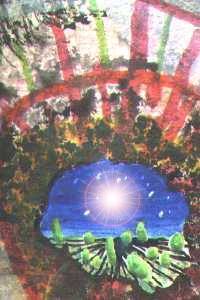 Pot Calling Kettle Black?
Answering Impertinent Verses on Exopolitical Matters
http://redstarfilms.blogspot.com/
Dr. Salla Strikes [Out] Again
Kimball: Below is Dr. Michael Salla's most recent rant (er... posting) at UFO Updates, in response to one of my postings, wherein I congratulated Brad Sparks (re: Philip Corso) and Kevin Randle (re: Clifford Stone) for setting the record straight, in the face of Dr. Salla's egregious revisionist history and fact-twisting.
Lehmberg: Yeah... yeah. Sure... sure. Only, ~your~ imbalance is demonstrably further askew as your tedious cant is in obvious gallop right from the start! Why, the porcine ~girth~ of your dodgy and imperiously biased response here, alone, qualifies itself as "rant," Sir. The partisan-isms prosecuted further clinch it, and the irony gets a little ~more~ tiresome.

Kimball: It looks like Dr. Salla has finally revealed his true colours.
Lehmberg: Forgetting that you may have yet to reveal your own, Mr. Kimball, what you have revealed so far, yourself, tends to the extreme fringes of a perceivable spectrum of color. Black and white, you'll remember, are philosophical ideals existing only in Plato's world. It's a universe of color, Sir. Black and white are ideal abstractions. Beyond some approximations? They don't exist. I'll remind you about that later.
Kimball: He cares nothing for the scientific or historical research methods, he has no respect for or knowledge of the history of ufological research and researchers, and he has a great deal of trouble, apparently, separating fact from fiction.
Lehmberg: While you, on the other hand, are the only credible arbiter of historically scientific research methods, are the forsworn protector/enforcer of *respect* as you recalcitrantly define it, and you have absolutely ~no~ trouble determining the auspicious wheat from the errant chaff. Astonishing claims...
Lehmberg: Ironically, then, it is you which seems more clearly delusional. Salla doesn't seem to make the same kind of artless intimations of infallibility as you, not by a long shot.

Kimball: Or he does understand all of these things, and chooses to ignore them.
Lehmberg: Perhaps you confuse Dr. Salla with a mirror image frequently and adoringly regarded, Sir. I would have considered making similar charges in your regard and on your behalf.

Kimball: Either / or, he is a clear and present danger to the serious study of the UFO phenomenon.
Lehmberg: Should it be forgotten that the immediately preceding, itself, dervishes wildly through verdant fields of fulsome fallacy? "Either / Or" ignores the rich potentiality inside and outside a tiny box of your jealous homocentricity, Sir. A reader could be reminded of that. There ~is~ more in hell and paradise than is credited in your conflicted assessment, to paraphrase the bard, and you perform no service you would pretend... to proclaim anything else is itself disingenuous...

Kimball: My original post and Dr. Salla's reply are in italics - my responses to his post are interspersed throughout, in regular text.
Lehmberg: Not so as it turned out, be that as it may, the formatting is now clear.

Kimball: The original UFO Updates posting can be found at:

http://www.virtuallystrange.net/ufo/updates/2005/aug/m06-021.shtml

Kimball: I wrote:

Dr. Salla is worth taking seriously, as Brad, Kevin, Stan Friedman, Josh Goldstein, Dick Hall, myself and others have done at various times, because its important to set the record straight for those who might wander by, here or elsewhere, and just get Dr. Salla's side of the story. He is also worth taking seriously simply because he is one of the main proponents of exopolitics, and its important for ufology to make a very clear, and public, distinction between the fringes - like exopolitics - and the serious study of the UFO phenomenon, just as it was important to make the distinction, years ago, between the contactees and the serious study of the UFO phenomenon. Kudos to Brad and Kevin for their recent efforts.
Lehmberg: I direct the reader to my response in the same UFO UpDates thread.
http://www.virtuallystrange.net/ufo/updates/2005/aug/m06-016.shtml

Dr. Salla replied:

Salla: "I thank Paul Kimball for taking the exopolitical perspective seriously."

Kimball: Dr. Salla misunderstands me (or is being deliberately obtuse - it's often hard to tell). I don't think the "exopolitical perspective" should be taken seriously in the way he suggests (duh...). Rather, it should be taken seriously in the same way that a person would take cancer seriously. It is a disease that afflicts the serious study of the UFO phenomenon. Radical treatment is required to stop it before it spreads further.
Lehmberg: Dr. Salla did not remotely misunderstand you, Mr. Kimball, as you know. He was only countering your snide sneer with something a little more intelligently collegiate of his own. I'm sure I'm not the only one who giggled at the gentle sarcasm even if it was lost on you.

Salla: "I do however take exception to his attempt to locate exopolitics at the fringes of what he describes as "the serious study of the UFO phenomenon". Exopolitics is neither at the fringes, nor is it something relatively new to UFO studies that I, Steven Greer, Alfred Webre or others have introduced. I am presently writing a short history of exopolitics for the forthcoming inaugural edition of the Exopolitics Journal which will explain the evolution of exopolitics: www.exopoliticsjournal.com."

Kimball: So there is no further misunderstanding by Dr. Salla as to my position, here it is again - Exopolitics is not located "at the fringe" - it IS the fringe!
Lehmberg: Right. A reasonable extension of a social ethic reflecting ultimate intellectual pragmatism and itself unceasingly practiced since elements of proto-humankind re-discovered other elements of proto humankind out on the savanna... even before Cain and Able. I understand, I think, why you would want the ufological fence sitter to think otherwise, but all ~that~ ground has been covered. Politics, even with a prefix, Sir... is old.

Salla: "First let me give a couple of definitions of exopolitcs. One is my favored definition and the second is based on an earlier post to the List. My favored definition is "Exopolitics is the study of the key actors, institutions and processes associated with the extraterrestrial hypothesis (ETH)." Another definition was raised in an earlier post and is based on the exobiology model: Exopolitics is "a branch of politics concerned with the possibility that life forms are visiting the Earth, and with the problems of adapting Earth politics to deal with visiting aliens." http://www.virtuallystrange.net/ufo/updates/2005/jul/m20-040.shtml"

Kimball: Neither of Dr. Salla's disingenuous definitions...
Lehmberg: Whoa! Foul, Sir! I'm throwing down a card! I fail to see where Salla's definition of what is only sociologically obvious is in any way deceitful, insincere or untruthful. Perhaps, you are indeed disingenuous to say so...
Kimball: ...bears even the slightest resemblance to the reality of exopolitics.
Lehmberg: I've already pointed out that your unbalanced and biased cant rather neatly disqualifies you from pontificating on the *reality* of anything, Mr. Kimball.
Kimball: Exopolitics takes the "hypothesis" out of "Extraterrestrial Hypothesis," and substitutes "Fact."
Lehmberg: Forgetting that you are made distinctly uncomfortable with even the "Hypothesis" of ET (...don't deny it, you bleed it from every pore...) many of the facts you allude to seem abundantly obvious.
Kimball: Make no mistake - exopolitics is all about the belief (as a proven fact) that many different alien races are already here, interacting with our governments, etc., etc. Call it the Extraterrestrial Fact (ETF). This belief is based on the testimony of "whistleblowers" like William Milton Cooper, Philip Corso, Bob Lazar, and Clifford Stone.
Lehmberg: Wow! I can see the flecks of spittle gathering at the corners of your mouth! The true masquerade, Sir, is to sit at the bottom of your portentous gravity well counting your scientistic (sic) beads and casting your un-brave isolationist runes... happily discarding a reflective infant with its bath. I suspect you are oblivious to the vipers you self-generate and grapple to a chest intellectually waxed of even the efficacious hair. Pity.
Lehmberg: ...Drake says they ~are~, Fermi says they ~will~, and you yourself, oh maven of a crystal history, have made reference to a now self-denied suspicion that they ~have~. Isn't that hysterical?

Kimball: In other words, Exopolitics is based on a house of sand built deep in a fog bank.
Lehmberg: So you would have the reader reflexively believe. When one considers the injudiciously sneering source; however, one is not so sure.

Kimball: If you want the real definition of exopolitics, go to the source for some example of exopolitics in action:

www.exopolitics.org

Kimball: How about this statement, which can be found in Dr. Salla's "paper" Political Spin and Extraterrestrial Disclosure - Shaping Public Opinion for First Contact with Extraterrestrials (see www.exopolitics.org/Study-Paper-9.htm)?

Salla: "There has been a worldwide suppression of a secret extraterrestrial presence on Earth for at least 50 years from the general public and most elected public officials. The official public disclosure of the extraterrestrial presence has long been speculated to be imminent. The repeated delays have led to much uncertainty over when the secret extraterrestrial presence will eventually be disclosed. Some whistleblowers persuasively argue that once international terrorism fails to be a credible justification for the vast military expenditures by the U.S. military, then military-intelligence agencies will turn to the extraterrestrial presence to justify such expenditure. However, rather than 'when' being the critical issue to be decided, it appears that the more difficult issue is 'how' the extraterrestrial presence will be disclosed or 'politically spun'. The different scenarios of a first contact that have emerged into the public arena by various UFO researchers/whistleblowers point to a competition between and within government agencies for how 'First Contact' will be 'spun' for world-wide consumption. It appears that there are strong factional rivalries within clandestine organizations that respectively have their own favored contact scenario. It is these rivalries that best explain the long delay in public disclosure of the extraterrestrial presence." - Michael Salla
Lehmberg: I would submit to the reader that there is absolutely nothing wrong with the above statement. It is considered and fair. It is aware of present political realities as they are foisted on the rank and file, us. It is awake to the duplicities of unelected governments; it recognizes the evil of un-accountable agencies; it admits to an illegitimacy of dissembling institutions. There is only one problem with the statement as read. It won't drink the *Kool-aid*, Mr. Kimball, the real problem, I suspect, you'd have with it.

Kimball: And let's not forget my personal favourite, from Dr. Salla's "paper" A Report on the Motivations and Activities of Extraterrestrial Races – A Typology of the Most Significant Extraterrestrial Races Interacting with Humanity (see http://www.exopolitics.org/Report-ET-Motivations.htm)

Salla: "There are an extensive number of extraterrestrial races known to be currently interacting with Earth and the human population. In a 1998 interview, Clifford Stone, a retired US army Sergeant who served in the US Army for 22 years and participated in covert operations to retrieve crashed extraterrestrial ships and extraterrestrial biological entities (EBE's), revealed there were a total of 57 extraterrestrial races known to the US military. From this pool of extraterrestrial races, a number are more active than others, and can be claimed to have the most significance for human evolution and sovereignty. This report describes the main extraterrestrial races most commonly referred to in the literature who appear to have most strategic significance for the evolution and sovereignty of humanity, and their impact on a range of systemic global problems. The report distinguishes between these extraterrestrial races on the basis of their belonging to one of either two distinct groups. The first group contains extraterrestrial races with which 'shadow governments' responsible for extraterrestrial affairs, have reached agreements with and even collaborated in a number of joint projects. The extensive set of interlocking agreements between these races and the 'shadow government' in the US and elsewhere suggests the existence of a military-industrial-extraterrestrial complex of interests. There is also a second grouping of extraterrestrial races that lie outside of this web of clandestine agreements between extraterrestrial races and 'shadow governments'/national security agencies. Most 'contactees' report these races to be 'friendly' to human interests suggesting a more ethical approach to the challenges confronting humanity as it prepares for the truth about the extraterrestrial presence and challenges posed by advanced extraterrestrial technology." - Michael Salla
Lehmberg: I would not pretend to be able to vet Dr. Salla's citations and references as you do Mr. Kimball with such alacrity and confidence... surprising attributes given you have them largely as a result of secondary references, cherry picked to suit your cant, I suspect, and shoving the whole conundrum into some deeper recess of your own private little comfort zone... it remains that Drake and Fermi... ...and you yourself... have pointed at the object you regard with such uneasiness and fear.
Lehmberg: There is a huge obstacle to disclosure of what has been undisclosed, lo these many years, and you are curiously passionate in your defense of what has not moved us, conclusively, in half a century. Your biggest explications are against any effort questioning that regressive lack of movement I pointed out, Sir. Why would that be?

Kimball: Notice the difference between Dr. Salla's statements as put forward in these papers - and there are many, many others that say the same things - and the ones he puts forward at Updates as the "definition" of exopolitics? Exopolitics isn't about the ETH, as Dr. Salla suggests at Updates, in a bid, one can only presume, for some respectability - it's about the belief in the ETF!
Lehmberg: So you say, but you only make the depth of your own denial more obvious! You want proof? How about the unending and very well documented official obfuscations pointed out by Vallee, Friedman, Dolan, Druffle, and McDonald? How about thousands of credible reports, thousands of photos, thousands of historical references, and thousands of trace cases? You don't want proof of truth... you want justification for ~your~ denial.
Lehmberg: Seriously, don't make me laugh. You only want to entertain a very coveted possibility that we are alone in the universe and ignore, stridently, what is contraindicating. Moreover, there is never really any proof of anything, Mr. Kimball, there is ever only that evidence, or data, which one ~accepts~ as proof. Locked up as you are in denial your personal acceptance threshold is unreasonably and too suspiciously high.

Kimball: Don't be fooled, folks, into thinking otherwise.
Lehmberg: Right! Don't be fooled, folks, into thinking Mr. Kimball's *otherwise*! Mr. Kimball is the wrong man, in the wrong place, at the wrong time. Salla would open a door he perceived and judiciously, thoughtfully, and optimistically... bravely...!...walk on through. Mr. Kimball smirks, sneers, snickers and snipes that there would be "another door" at all, unless he finds it, I suspect.

Salla: "Defined in either way, exopolitics is neither very new nor at the fringes of Ufology."
Kimball: Defined properly exopolitics is the essence of the fringe.
Lehmberg: Your "proper" definition is hardly proper, but it would take your definition, as narrow and unfocused as that appears to be, to force exopolitics as far into the fringe as would make you comfortable to have it. It remains, UFOs are real, aliens appear obvious, and denying the politics of that is naive, anti-progressive, makes for an unhealthily static culture in the long view, imo.
Kimball: I do agree, however, that it is not new, per se, but merely a different manifestation of the Contactee movement that rose to prominence in the 1950s, and did great damage to the serious study of the UFO phenomenon as a result.
Lehmberg: Wild flapping monkey muffins and errant bat squeeze, Mr. Kimball! That's a steaming day old bed-pan and you know it. You would have the intellectually abused fence-sitter believe that a few curious innocents and the sociopaths who prey upon them are a disease and not a mere symptom of the disease you blithely ignore!
Lehmberg: The damage to ufology and efficacious society came as a result of a jealous status quo refusing to abdicate authority and power... and neatly dooming us all, as a result of its invidious, odious, and intellectual offensiveness, to ignorant perdition. This is regarding and directly proportionate to the status quo's too convenient maintenance of itself at the expense of the rest of us.
Lehmberg: Its not "four guys named George" who invented the ufological giggle factor you pretend to decry, Mr. Kimball. We owe that entirely to you, Sir, and the institutions, agencies, and, governments for which you stridently, if thinly, shill.

Kimball: Using either of the above definitions, it is very clear that the father of exopolitical thought, though not the term, is none other than Maj Donald Keyhoe.
Lehmberg: Major Keyhoe knew there was a cover-up and he suspected that it was very, very wrong. Unlike you, Major Keyhoe thought we'd be better advised to admit the obvious and avail ourselves a future, not doom ourselves to your obsequious and static past.

Kimball: Somewhere Donald Keyhoe, who had a severe dislike of the contactee movement, is turning over in his grave!
Lehmberg: Only because you're using his good name to improve your back-stepping negative.

Kimball: In the interests of not further sullying Keyhoe's memory, I'll skip Dr. Salla's very imaginative (to be polite) description of the Major's career, and move straight to his main point.
Lehmberg: Right! You've done all the damage to it you can. Let's move on.

Salla: "Since Keyhoe's demise the great tragedy for UFO research was that researchers from the 'physical sciences such as Dr Allen Hynek, Dr James MacDonald and Stanton Friedman became the 'exclusive' standard bearers of UFOlogy with their rigorous 'scientific' pursuit of the UFO phenomenon. Hynek, MacDonald and Friedman and other astronomers, physicists, meteorologists, etc., eschewed 'conspiracy theories' of a national security cover up and believed that more concerted scientific research would yield the truth."

Kimball: This is hilarious. Stan Friedman, the man who coined the term "Cosmic Watergate," and who has for decades now talked of nothing but the government cover-up, has "eschewed conspiracy theories?"
Lehmberg: You're hilarious... not. You've stretched your moopy conjecture so tightly over the barrel's mouth it snaps like the rotted rubber that it is the very first time you try to use it for a drum. You ~know~ what Salla meant here and you only remove it from the context to prove your desultory and dodgy point. Friedman walks the fringey line to be sure, and it is to be celebrated that he would identify a "Cosmic Watergate" not remotely ridiculed. Still... he walks the "scientific line" as you ~well~ know... too neatly increasing the base of those who find him credible. It follows that Mr. Friedman will not embrace your "garden variety conspiracy" very readily because he is, unlike yourself, a rational creature who "thinks" what he thinks, "knows" what he knows, and proves what can be proven. I suspect that what Mr. Friedman very rationally believes... would curl ~your~ short hairs, Mr. Kimball.

Kimball: Give me a break.
Lehmberg: Make yourself more worthy of one, then. As it stands? Break time is over.

Kimball: While I do not see Stan's acceptance of cover-up conspiracy theories as a positive thing - I merely note that Dr. Salla is flat-out wrong when he states that he "eschews them" altogether.
Lehmberg: For the purpose of argument and clarity of discussion Mr. Friedman rationally performs as Dr. Salla describes. Moreover, there was nothing mentioned with regard to an "altogether"... this was just your straw-man construction to invalidate the whole with a convenient swipe at a falsely maligned and self-invented ~part~ . No points here, Mr. Kimball.

Kimball: And to describe Hynek and McDonald's work as a "great tragedy for UFO research" is ludicrous, and an insult to the memory of those two pioneers of the serious study of the UFO phenomenon.
Lehmberg: What pompous distortion and straining credulity is this!!! You write like Dr. Salla was ~dismissing~ the contribution of Hynek and McDonald as unfounded. That's crap, you know it, and your bias is now self-exposed. The *work* is not the tragedy, Mr. Kimball -- as you well know! The tragedy is that that work is drawn only through the lens of ~your~ flawed design, Sir. That ~is~ a tragedy.

Salla: "Keyhoe's exopolitical perspective quickly moved from the center stage of UFO research and his extensive citation and use of whistleblower testimonies was forgotten. Now, the exopolitical perspective is considered part of the fringe of serious UFO research."

Kimball: Whoa... first, Keyhoe did not employ an exopolitical approach.
Lehmberg: ...Only because ~you~ say so? ...Because ~you~ can't lock it into the breech? A perspicacious fence-sitter is going to need more, Mr. Kimball. Step up to the plate.
Kimball: No matter how many times Dr. Salla says he did, it still isn't true (can anyone who knows anything about Keyhoe imagine him having anything but utter contempt for someone who would write a paper about "track two galactic diplomacy").
Lehmberg: I suspect Major Keyhoe would have utter contempt for persons such as yourself who wallow their own denial while imperiously proclaiming that an obvious and official cover-up should not exist. Moreover, don't ridicule Dr. Salla only because you don't have the capacity of his imagination or his ability to hold an uncomfortable thought in his head.
Kimball: Second, I could have sworn that Dr. Salla stated above that the exopolitical perspective was not at the fringe of serious UFO research? Now he says that it is. Does anyone else notice how Dr. Salla's arguments, when read in their entirety, lack a certain internal consistency - just like the testimony of his so-called "whistleblowers" lacks a certain internal consistency?
Lehmberg: Great suffering and most baragrugous Zot, Mr. Kimball. He didn't say that, as you know. He said it is "~considered~ on the fringe", not that he considered it so or that it even was. You only demonstrate a capacity here to read something the way you want to hear it and then try to sell that pig in a poke to the rank and file. ...Pretty disrespectful of the readership, Sir.
Lehmberg: What say you reader? Read it its entirety, doesn't Mr. Kimball's testimony have a certain internal... flatulence?

Salla: "UFO studies as it is presently concentrated is a shadow of what it once was under Keyhoe's leadership and suffers from an acute shortage of resources and organization. I have noted the demise of organizations such as NICAP, CUFOS and FUFOR, and the current difficulties of MUFON and can only conclude that this is brought about by UFO researchers being out of touch with the many millions or 'mainstream public' who accept the ETH and/or that a national security cover up at the highest level is underway."

Kimball: No, Dr. Salla, you have it wrong... again.
Lehmberg: Abject crockola and mooted pooties in your own right, Mr. Kimball. You have it wrong, reflexively. As Seth Shostak pointed out in a recent article... a Roper poll proclaims that two thirds of the public believes ET life exists and that it is visiting Earth. It's no stretch that, in as much as we are getting no "official' notification of it, a cover-up must, of needs, be in place. Two thirds believe what is not being 'officially' reported, Mr. Kimball. Two thirds! I would suspect that some kind of intellectual disconnect between society and the persons making that society up is abundantly obvious, even to you.

Kimball: As I have stated here repeatedly, the reason ufology is in a mess is because people like you (the term most often used by the public is "wackos") insist on running around telling everyone that there are a dozen or so alien races already here, working with our governments, with a giant cover-up in place to make sure that we never learn the truth.
Lehmberg: As I have stated here repeatedly, the reason ufology is in a mess is because people like you, not so ironically, refuse to address the real issues of a maligned ufology as they pertain to official denial of it from government, agency, and institution, a bogus corporate media, and the thoroughly corrupt and hijacked mainstream for which you feverishly shill. You're the problem, Sir. You.

Kimball: Sensible people want nothing to do with this bunk.
Lehmberg: Every time you try to prosecute what "sensible" is... a shiver goes down my spine and the hair goes up on the back of my neck. Sensible people want their lives to mean something, want to be rewarded for their labors, want their safety assured, want to believe what their culture reports to them, want to love and be loved, want to achieve satisfaction and avoid despair... and be better off tomorrow than they were today. Moreover, one man's bunk is another man's holy grail. Corrupted by conventional bias and crippled by traditional cant, you're not the one to speculate of a definition of either.

Salla: "What I and others such as Steven Greer have done is to bring in evidence from whistleblowers and others that confirm the political aspect of the UFO phenomenon and the political cover up of the ETH."

Kimball: No, what you and Greer have done is hurl us back into the 1950s, to the time of good old George Adamski and Silas Newton, i.e. con men trying to take advantage of the gullible, and those who, for whatever reason, desperately want to believe.
Lehmberg: We'd be better employed trying to suss out why ~you're~ trying to take advantage of the innocent gullible and make them believe, for whatever reason, what you desperately want them to believe...

Kimball: You should be ashamed of yourselves.
Lehmberg: Pots and kettles, Mr. Kimball. That shame is your own projection.

Salla: "Paul Kimball cites researchers such as Brad Sparks, Kevin Randall, Stanton Friedman, Josh Goldstein, Richard Hall and himself as exemplary models for systematically defining the parameters of the "Serious Study of the UFO phenomenon" in terms of a 'scientific method' for studying UFO sightings, the abduction phenomenon, FOIA documents, etc."

Kimball: Not quite. I was merely pointing out that these people had offered a critique of your so-called "methodology" as of late. However, let me just say that Hall, Sparks, Randle and Friedman, despite having flaws (hey - who doesn't?), make far better models for the seriou study of the UFO phenomenon, on their WORST day, than you do on your BEST day.
Lehmberg: Quite, actually. You would still entertain as more 'probable', I suspect, that the ETH is not valid at all, and that UFOs themselves may yet prove to have a prosaic explanation. That neatly pours more liquid carbon dioxide on ufology's frozen glaciality, nes't ce pas? Furthermore, speciously inordinate convocations on the subject of what's BEST or WORST aside, agreement with the suspected mouse in your pocket is not enough to ascertain that you can really detect a difference between either of the two. I suspect, even, that you could even have it exactly backwards.

Salla: "It's worth pointing out that aside from Stanton Friedman, none of these gentlemen are scientists that enable them to authoritatively establish the scientific method as championed as the exemplary model for UFO research."

Kimball: This is a red herring, of course (Dr. Salla uses so many red herrings we should just call him "Fishy" from now on).
Lehmberg: You should avoid the smirky cuteness, Mr. Kimball. You don't do it very well, and it only encourages your opposition to drive their points in further than they need to.
Kimball: Take me, for example.
Lehmberg: Mmmmmmmmmm-no. Less the harder you try. But, reader, do take Mr. Kimball... please!
Kimball: My training is in history, vital for UFO research, so much of which is historical, and the law, which is useful for understanding all sorts of stuff that Dr. Salla usually glosses over, such as evidence.
Lehmberg: Your "historical training" dotes overmuch on the suspect traditional or hijacked mainstream and seems decidedly cherry-picked to facilitate a bogus status quo... too facile for my taste. Moreover, I'm always a little leery of a lawyer not actually practicing law... as a public defender. You all learn to grind a very inauspicious axe, otherwise... imo...

Salla: "In Stanton's case while he worked as nuclear physicist, he doesn't have a PhD nor does he have a record of peer reviewed publications in scientific journals."

Kimball: Umm... just how many UFO papers have you written, Dr. Salla, in legitimate peer-reviewed publications?
Lehmberg: Ummmm... that's not really the issue or the point that is trying to be made... once again. You do that a lot... Sir. Moreover, don't legitimate peer-reviewed publications pretty much eschew even quality UFO papers?

Kimball: Which science is your PhD in??
Lehmberg: ...and he'd never imply that his ~was~, just that others were not. No points here.

Kimball: While Dr. Salla has written dozens of academic papers, NONE have anything to do with the UFO phenomenon (see Dr. Salla's resume at http://www.exopolitics.org/Vitae.htm).
Lehmberg: So what? Like myself, he still had his career torpedoed for pursuing even an illusion of academic freedom and interest in... well... hot-damn... the single most important occurrence in human history and prehistory... even future history? What have you sacrificed, Mr. Kimball? Between you, who is it that travels the harder more arduous road?

Kimball: As for Stan, leaving aside his decades of UFO research, the numerous papers he has written, his two books, and his written testimony to Congress, he also wrote a number of peer reviewed papers back when he was working as a nuclear physicist. I don't always agree with Stan, but I certainly have a great deal of respect for his work and his accomplishments, and I would never suggest, as Dr. Salla does, that he isn't a real scientist. He certainly has more scientific credentials than Dr. Salla.
Lehmberg: This is a wonderful straw-man you labor on so furiously. Do you have a... ...cute little horse to pass him through before you find you're finished, too?

Salla: "While Kevin Randall does have a PhD, it's in psychology, not any of the physical sciences cited as the model for the serious study of the UFO phenomenon."

Kimball: A cynical person (and the more I read from people like Dr. Salla, the more cynical I become, at least in terms of the UFO phenomenon) might suggest that a PhD in psychology is the perfect degree for analysing certain elements within ufology... like exopolitics.
Lehmberg: Perhaps, but only after we sent him around to evaluate the motivations of Salla's most strident detractors. That may be a little _too_ cynical for the tastes of some.

Salla: "As far as Brad Sparks is concerned, he has a sharp mind and access to much historical information that he creatively spins to support his 'revisionist theories' but his systematic debunking of whistleblower testimonies and eschewal of the ETH doesn't make him in my mind a good model for what UFO research is about. As for his background, I have no information on that other than he co-founded CAUS. Perhaps he might enlighten me and others about what it is in his background that might entitle him to be recognized as laying down the scientific parameters of UFO research."

Kimball: Brad Sparks has "walked the walk" (as opposed to Dr. Salla, who merely "talks the talk") for decades. To call him a "revisionist" is absurd, as anyone who has read his exchanges with Dr. Salla at Updates can see for themselves. If there is a revisionist here, it is Dr. Salla.
Lehmberg: "Walking the walk" is making actual unwilling sacrifice in pursuit of your convictions. What has been ~your~ unwilling sacrifice, Sir?

Salla: "Paul Kimball has a law degree and is an independent filmmaker. Josh Goldstein is a detective. I don't say this in any way to demean their investigative abilities or research competence, it's just that none are scientists with competence in developing appropriate methodologies for investigating hypotheses such as the ETH."

Kimball: Hahahahah... again, which science degree do you have, Dr. Salla??

Kimball: Here are his academic credentials:

Doctor of Philosophy (University of Queensland)
Master of Arts (University of Melbourne)
Bachelor of Arts (University of Melbourne)
Graduate Diploma of Education (Melbourne CAE)
Bachelor of Science (University of Melbourne)

Kimball: Hmm... I guess that B.Sc. trumps Stan's M.Sc, not to mention the PhDs held by Hynek and McDonald.
Lehmberg: Say what you want and distort what you will, Mr. Kimball, it remains that you are too particular where you cast your tiny light and not really discussing the point that Dr. Salla is trying to make, I believe, and you do it with the characteristic smirking sneer of the officious and offensive second-rate scoffer. You prove nothing but the depth of your own ineptitude in this matter, that your *history* is decidedly party-line and therefore likely to be incomplete at best, and I suspect not much better as a jurist... or you'd be doing that.

Kimball: This is a red herring anyway, as the training in science is just one way to develop knowledge of proper methodologies. As I stated earlier, training in history and law work just as well - indeed, better. After all, how many scientists are trained in the skills required to interview witnesses?

Kimball: Not very many.
Lehmberg: You're not a historian per say, you've only had training... and you don't practice law... you only ever remind us of an unused sheepskin... Your education and experience are not the panacea for credibility that you imply they would be or should be, Sir. You are, it seems, more of what you accuse for Dr. Salla, ironically enough. Based on the distortions, cheap shots, and errant twists of your own right here in this paper... you seem guiltier of what you'd accuse than Dr. Salla. _I_ don't believe you at any rate.

Salla: "In general, the above researchers cited as the models for UFOlogy eschew systematic analysis of the political cover up of the ETH on the basis of biases that EXCLUSIVELY favor scientific study of 'hard evidence' in the form of UFO sightings, and FOIA documents. The cover up of evidence, the testimony of whistleblowers/'leakers', the manipulation of documents, intimidation of witnesses supporting the ETH is not at the fringe of UFO studies."

Kimball: Of course it is, at least as practised by the exopoliticians, who are not interested in the truth, whatever it is. They are simply interested in spreading their own beliefs.
Lehmberg: I notice that you seem to get a pretty big kick out of proclaiming your suspect opinions as fact, yourself, Sir. What about ~your~ dodgy homocentric beliefs, Mr. Kimball?

Salla: "It was at the center stage of UFO studies at its formation and under Maj Keyhoe who blended together an exopolitical perspective together with the more rigorous scientific analysis of UFO data. I am reminding this List that a movement that forgets its origins and seminal thinkers loses part of its own identity and consequently gets out of touch of the mainstream population."

Kimball: Again, a complete and total misrepresentation of Keyhoe's career.
Lehmberg: ...In your too cloistered opinion, Mr. Kimball. You remember, that thing ... like an anal pore... which everyone has... and, as a result, is not very special ?

Kimball: I do agree, however, that those interested in the serious study of the UFO phenomenon should never forget those who came before - researchers like McDonald and Hynek, and the real Donald Keyhoe, not the false one Dr. Salla would have you believe stands as the progentior of Exopolitics. Remember others like Dick Hall, and Jerry Clark, and Peter Sturrock, and Jacques Vallee, and Brad Sparks, as well.
Lehmberg: ...With most of these, I expect, regarding you with eyes akimbo and arms askance in the bargain. A dropped name doesn't mean it's going to bounce for you, Mr. Kimball.

Kimball: In other words, everyone whose work Dr. Salla both ignores and tarnishes.
Lehmberg: Oh crap, the only thing ignored and tarnished in this teapot tempest is your inept ability to accurately and honestly report on the arguments of your opposition.

Salla: "There is no doubt that UFO research as currently defined by researchers cited by Paul Kimball is in crisis. They are out of touch with the many millions who do accept the ETH and know that a political cover up exists. Exopolitics may be on the fringe of this list given the biases that are systematically promoted by the leading protagonists here, but exopolitics is certainly not at the fringes of UFO research, but belongs at center stage along with the scientific method advocated by MacDonald, Hynek, etc."

Kimball: Wait a second. I thought the whole point of Dr. Salla's rant was to trash the scientific method employed by Hynek, McDonald et al?
Lehmberg: Hah! The only person missing the point, invoking distortion, and misrepresenting an opponents position is yourself. The only one saying and doing what you describe here is you, Mr. Kimball. Dr. Salla won't be paying any freight for the words and ideas you put in his mouth. More of your internal flatulance, Sir? Take a freakin' bi-carb!
Kimball: Now he's saying that it has as much merit as exopolitics?? That's mighty big of him!
Lehmberg: Jeez -- I'm glad this is almost over... increasingly, you become more and more tedious.

Salla: "Finally, either of the two definitions of exopolitics cited above herald an emerging trend of researchers, experiencers, whistleblowers who do systematically explore the political processes associated with the cover up of the ETH. The various methodologies to be used for exopolitics will naturally be strongly contested, but this should be done in a way that recognizes the complexities in exopolitical research, and without excluding data that fits outside the artificially constructed paradigm of "Serious Study of the UFO phenomenon."

Kimball: Read this last statement by Dr. Salla carefully.
Lehmberg: Carefully and many times...

Kimball: What "methodologies" do exppolitics employ?

Kimball: Blind belief.
Lehmberg: That's the fruit of your "careful" perusal? Another proclamation? Another opinion? Another prosecution of your own overtly fetid tide-pool of personal beliefs?

Kimball: What complexities are their in exopolitical research are there?
Lehmberg: That was easy for you to say.

Kimball: None. They accept anything and everything that supports their pre-determined belief system. This is about as complex as spitting on the sidewalk.
Lehmberg: Again, this is the inauspicious fruit of your "careful" perusal? Another proclamation? Another opinion? Another prosecution of your own puddle deep beliefs?

Kimball: What is the "artificially constructed paradigm" for the "serious UFO of the UFO phenomenon?"

Kimball: Objectivity. Rigorous analysis of the evidence, untainted by belief. Rational scepticism.
Lehmberg: Hah! These are just words coming from you, Mr. Kimball, and as such are too jingoistic to do any real fighting. Objectivity? But you won't admit to a human subjectivity determining what "objective" is in the first place. You whine about "rigorous analysis of the evidence" but you refuse to question the very suspicious dearth of same. You tediously moan about the scourge of belief but won't own up to your own beliefs regarding a universe with humanity at its center and a good bet that we are the only inhabitants essentially, anyway. Rational scepticism? From you, a pelicanist by any other name would smell as sweet.

Kimball: In other words, all the things that exopolitics, and Dr. Salla in particular, don't care about - and don't want you to think about anymore.
Lehmberg: I guess we'll just have to forget about the conversational topics you would avoid and how, given the opportunity, you would dictate the thoughts of others. I spoke earlier of spine shivers and fluttering neck hair...

Kimball: So what is exopolitics?
Lehmberg: Somehow -- I'd suspect that your definition of it is, at least, as suspect as that ascribed to Dr. Salla.

Kimball: Let me give you a clue...
Lehmberg: Keep it, you need one more than the reader does.

Kimball: If ever the exopolitics "movement" should decide to choose a rock band to sing some sort of exopolitics theme song, there could be only one logical choice:

Kimball: The Cult.
Lehmberg: I would have chosen "Tiny Tim" for you, but he's dead. Maybe he still exists in the decade you inhabit, Mr. Kimball. Give it some thought. That said, you were singularly unimpressive this iteration, Sir. I'm reminded of a precept of my AlienView philosophy -- investigate more thoroughly that which you are told not to investigate or which seems to generate the most anger and odious character assassination. I can't testify to the verity of Dr. Salla or an "exopolitics", but if he raises this much ire and invective from a Paul Kimball... there might be something to him yet.
Read on.