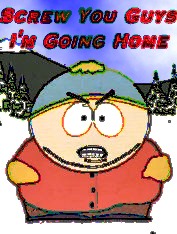 ...Where are my CheezyPoops?
Cartman's Contrived Conniption ("C"Cubed)
["Respect My Authori-tai"!]
Kimball: I cancelled my subscription to UFO Updates last week, after several years of receiving the posts on a daily basis. Why?
Lehmberg: The tone suggests that the loss is unquestionably the readers of UpDates loss... forgetting the loss to UpDates itself... Loss of what? The keen acumen and incisive cogitation... presumably (let's not leave out the engaging wit and illuminating repartee) of one Paul Kimball, Esq?
I wonder if this could somehow be true. Have I somehow misjudged Mr. Kimball's motives and intentions and contributed in some small way to this tragedy of his piqued departure from UpDates company? I suspect not.

Kimball: Because Updates has become more about ego gratification and personal attacks, and less about a reasoned and rational debate / discussion about the UFO phenomenon. Frankly, I had enough.
Lehmberg: Yeah... me too. I've had enough of strutting and officious popinjays who practice what they accuse, engage in unethical well-poisoning activities, and use 19th Century sensibilities to prosecute back-stepping and self-involved agendas improving their own ufological stock at the expense of an aggregate ufological stock.

Kimball: Then, just days later, this latest brouhaha erupts between the RRR Group and Alfred Lehmberg. Because RRR cc'ed me on their original question re: Mr. Lehmberg, which was sent to Errol Bruce-Knapp, Mr. Bruce-Knapp cc'ed me on his response. It can be found at http://www.virtuallystrange.net/ufo/updates/2005/oct/m31-007.shtml.
Lehmberg: I don't believe that it is remotely unreasonable to think that baseless accusations of PEDERASTY qualify as mere "brouhaha," Mr. Kimball. My lawyer doesn't think so, Sir, either. Moreover, it is perfectly clear to the most casual observer why you might be copied on same. Your note here is an abundant example of why that might be. Moreover, do you think a readership is so readily taken in by your pompous outrage and faux-offended manner that they cannot readily surmise... Sir ...that you were actually counted upon to help bring me down because my opinions run passionately (and I suspect righteously) counter to theirs... ...and yours?

Kimball: My response, sent in an e-mail to Messrs. Lehmberg, Bruce-Knapp, and Reynolds et al, and copied to a number of List subscribers and leading ufologists, was as follows:

Kimball: "Gentlemen:

Kimball: I have withdrawn from Updates, prior to this current RRR - AL brouhaha. Therefore, there is no need to send me anything that is related to Updates.
Lehmberg: That's "Mr. Lehmberg", Mr. Kimball. "AL" is not found anywhere in your too tightly boxed, conveniently complacent, and two dimensional little universe.

Kimball: What Jay did was wrong.
Lehmberg: ...To little too late, Mr. Kimball.
Kimball: Even in private.
Lehmberg: Good LORD but you conflicted neo-ufological right-wingers are a dissembling lot! Apparently, dissembling as a matter of simple reflex! That letter was in no way, shape, or form a private letter, Sir, and it is despicable that you would suggest so here. That letter went out to both sides of the aisle and was published on a blog with some small readership. Got that? That letter got WIDE release almost immediately! I got E-mail from overseas, Mr. Kimball, and calls from all over the United States and Canada. Said letter was NOT "private".
Kimball: If I had been Errol, I would have booted him from Updates too. I have a great deal of difficulty thinking of anything worse than being linked to child porn, short of murder. So - and I don't want there to be any misunderstanding here - it was wrong. Wrong. WRONG.
Lehmberg: ...too little to late, Mr. Kimball. ...Too Little Too Late. ...TOO LITTLE TOO LATE!
Lehmberg: Besides, what ~else~ could you say and still maintain a shred of high ground? "R" Cube's very actionable accusations regarding my alleged involvement in PEDERASTY were a result of incompetence, bias, stupidity, ineptitude, insentient enmity, and philosophical infidelity. The charges were without foundation, support or fact and were raised at all to shut me down without regard to common sense, base integrity, fair play, or my SPOTLESS reputation. All that is required is accusation, Mr. Kimball, smoke must always mean fire in our presently very corrupted nation even as it's a smoking bundle thrown into your yard by others. You know this to be true, yet dismiss it as mere "brouhaha".

Kimball: Having said that, let me say this:
Lehmberg: ...And then, Sir, prepare yourself for my rebuttal.

Kimball: I would have booted Wendy Connors from Updates when she smeared Rich [see: www.redstarfilms.blogspot.com/2005/06/good-bad-in-ufology.html].
Lehmberg: Of course you would have! This comes as no surprise to anyone, Sir. Ms. Connors is not taken in by you, runs counter to you, and refused, as I do, to validate your senseless faiths and thoughtless paradigms, such as they are... ...or respect your homocentric self-involved view of things, such as they reveal themselves to be. I suspect a philosophical like-minder, follower, or other social stepping stone of which you approved could expect an alternative treatment.
Kimball: I would have booted Mr. Lehmberg a long time ago, for his smear attacks at Alien View (to which www.virtuallystrange.net, which hosts Updates, has a direct link) and elsewhere on me and so many others.
Lehmberg: I suspect, Sir, that what passes for a smear in your universe is a failure to make your case and be defeated in debate in mine. I am proud to stand by what I write in any case. A smear in my universe, conversely, is typical of the baseless charge viciously leveled at me yesterday by others with an inability to make their case or be victorious in debate. To be accused of PEDERASTY, Sir! Now, there is a smear worthy of the name!
Kimball: Errol, you did nothing about Ms. Connor's remarks re: Rich, and you have done and continue to do nothing about Mr. Lehmberg.
Lehmberg: I suspect that Mr. Knapp's only real failure, Sir, is to not readily skip to your boring, pedantic, and officious tune... or take your direction in any way. That said, your pretentious whining that something must be done about me is the wounded carping of a petulantly offended martinet, Sir, and should be an embarrassment to you. Verily, I am embarrassed for you.
Kimball: Again, that is wrong. You are employing a double standard.
Lehmberg: Again, this is ardent crapulation of the thinnest weave. The problem with the standard is that it is not your "standard," Sir! A standard of easy elitism, ready sneers at contrary opinions, and intellectual cowardice... imo. Your standard suffocates, Sir. Mr. Knapp's more efficacious standard facilitates. I promise not to be surprised at your lack of agreement with the preceding or your inability to perceive a clear difference between the two.

Kimball: Of course, none of this has anything to do with the UFO phenomenon, or a reasoned and rational debate.
Lehmberg: Hot flash Mr. Kimball! It's you, Sir, who likely has less to do with the UFO phenomenon... ...unless it is to push the reality of same so far away from you that you no longer feel threatened by their unsettling actuality. You are about a limited humankind that is supreme in the universe... ...and the evidence right here on this planet (and in what remains of a suspect written history) makes every indication that THAT is just not so. A quick trip in Mr. Peabody's "Wayback Machine" sees a real dichotomy between Cortez and Montezuma and these were MEN a lot closer to each other than an Alien from beyond the stars (which you must admit to on some level) has ANY expectation to be. Cortez kicked Montezuma's ass with a handful of syphilitic Spanish nay-bobs.
If they can get here, and they can and have (a faith I don't ~expect~ others to validate)... ...they can kick our ass, likely on any level you care to name. Cortez kicked Montezuma's ass with a handful of syphilitic Spanish nay-bobs.
Kimball: People can disagree - even vehemently - without it getting personal.
Lehmberg: How "personal" is your unjustified, well poisoning, and dismissive sneer, Mr. Kimball? Moreover, you losing an argument and not having your way does not a SMEAR against you, make, Sir. We have already discussed what one of those might actually be. Finally, "getting personal" may mean trying to anger the community to expel one of their (more sincere?) own out of personal pique, interpersonal infidelity, and a clear inability to fight your own battles? You would inflame the community to expel or banish me... ...Now, that's personal.
Kimball: But that isn't the way it seems to go with some in ufology these days.
Lehmberg: I suggest 1- 800- WAA-AAAA... ...You are the discredited and ineffective past, Sir, officiating a half step forward to justify three steps back. I aspire to a future bearing down on us like a comet from space. You are a staid and dodgy conservative, Sir. I aspire to an obvious progressive.

Kimball: And it was for this reason that I left Updates (without any public fanfare),
Lehmberg: Right... what's this churlish screed about then?
Kimball: ...which was once a significant tool to aid in legitimate research.
Lehmberg: It still is, Sir, and I am of the opinion that it has improved perceptively with your departure.
Kimball: Not anymore.
Lehmberg: Why? ...Because you say so? UFO UpDates functioned well before your coming, and I suspect will operate better as a result of your moving on, Sir. We shall see.
Kimball: It is now a symbol of the intellectual bankruptcy of contemporary ufology.
Why? Again... Because you say so? Ha! That's so much craptastical nonsense based on you not being able to refrain from pissing on your own shoes, Sir. The "intellectual bankruptcy" to which you refer is your invention, and, I suspect, your fault. Outside of Videos you now disavow, your smarmy networking ability, and the coattails that you ride on... ...what have you brought to the table but a whiney petulance and an officiously smirking belligerency.
Kimball: There are good people in the "field" - I am copying this e-mail to some of the ones that I know and have corresponded with over the years, or worked with, in the hopes that maybe they'll finally stand up and say "enough," and withdraw from any list or group that allows this kind of behaviour - no matter what the source.
Lehmberg: In effect, well-poisoning and operating like any right-wing Christo-fascist? I propose that persons such as yourself put on their yellow plastic swimmies and take a long walk off a short peer.

Kimball: Frankly, to paraphrase the Joker in Batman, what ufology needs is an enema.
Lehmberg: Frankly, Sir? I suspect it's that you're the inadvertent result of your own, too reflexive, high-colonic! Verily, I can see you sliding commode bound through the clear plastic tube as we speak.

Kimball: Here's another suggestion - ufologists agree to draw up a uniform code of conduct, with same basic general principles.
Lehmberg: Seems to me a transparent device to make over a stalled ufology in your own image so as to continue to pretend a "progress" in no way evident since your arrival just a few months ago. I suspect you are an un-clever hurdle to same, Sir. That's my feeling. You're pretense, I feel, is making Dodge safe for townfolk, Mr. Kimball, when I suspect you're running people off their claims because you know a railroad is coming through.
Kimball: Lawyers do it.
Lehmberg: Oh, by all means! Lawyers! Now there's a sturdy model worthy of the name. And Mr. Kimball _is_ a lawyer! What an efficacious dovetail! Why, he could set up the whole thing and officiate it as its Czar! He'd get the trains running on time, to be sure!
Kimball: We do it in the film industry.
Lehmberg: Oh yes... another industry known for its flawless perspicuity, fairness, humility, restraint, and good will. Not.
Kimball: Most groups of people do it.
Lehmberg: Sure! All the freepers, jingoistic juice-suckers, and Klasskurtxian Kool-aid drinkers are ~renowned~ for sticking to their talking point ideologies and maintaining the staid status quo!
Kimball: Perhaps it's time for ufology as well.
Lehmberg: On the other hand, if we expect to be able to hear a report that the emperor is stark-freaking naked... ...maybe not.
Kimball: People could then sign it -
Lehmberg: ...Like one of George W. Bush's loyalty oaths before he lets you in to cheer at one of his Hitler-ian rallies?
Kimball: as Canadian producers do, for example, with the Independent Production Agreement with ACTRA - and would be bound by it. They would agree not to participate in any list or group that did not agree to be bound by the uniform code, nor attend any conference etc., or appear on any radio or television program, that did not similarly agree. And so on.
Lehmberg: And so on... Does Mr. Kimball try to set himself up as some kind of ufological Tail-gunner Joe McCarthy... or Smileytown's Eric Cartman? I'll pass, forgetting I would not be invited to his bleak little party to begin with.

Kimball: In other words, get together and set an example.

Lehmberg: An example of what? Rigid ideology? Homogenized sensibility? Lock-step non-progression? Ardent hubris? Rampant anthropomorphism? Ufological fascism?

Kimball: Until then, the considerable efforts of the various people I have copied this e-mail to will continue to be largely ignored.
Lehmberg: Oh! You are so full of CRAP. The considerable efforts of the brave persons you refer to are largely ignored , Mr. Kimball, because they are overlooked by the conflicted, constipated, and clueless MAINSTREAM for which you gleefully front, and not, Sir, because I am passionate about ufology.

Kimball: And that's the real shame.

Kimball: This is a subject that I have addressed before at The Other Side of Truth - see "The Good & the Bad in Ufology" for example (www.redstarfilms.blogspot.com/2005/06/good-bad-in-ufology.html) and "Separating 'Business' from 'Personal" (www.redstarfilms.blogspot.com/2005/07/separating-business-from-personal.html).
Lehmberg: Paffle! ...Self-important canted yawn-age pedantically prosecuting patent self-promotion... Foop nibble ... ...moot-pooty, imo.

Kimball: Until this nonsense stops - and that will require the "elder statesmen" of ufology to put aside their differences and agree to some code of conduct (does anyone think Mr. Bruce-Knapp would countenance Mr. Lehmberg's viciousness if Stan Friedman, Kevin Randle, Dick Hall, Jerry Clark, John Rimmer, Brad Sparks et al told him that they were leaving unless he did something about it), nothing will change.
Lehmberg: Does anyone else think the whiney puling of an, I suspect, anti-ufological fascist who can't make his own dodgy case will have the desired outcome iterated here?
Kimball: If they fail to do this, from hereon out they can consider themselves as far beyond the pale as people like Alfred Lehmberg and Christopher Jay have become because, by their silence, they will be allowing such behaviour to continue.
Lehmberg: Classic misdirection, reader. Now I am shoved into the same classification with the self-same little monster who has accused me of the most serious crime you can accuse... worse than murder. And... if the reader does not take Mr. Kimball's insidious lead... ...then he or she can forever be associated with what must be beyond detestable because our faultless Mr. Kimball has so proclaimed same. What tedious crap.

Kimball: Here's a suggestion...
Lehmberg: Mr. Kimball would be in no way pleased with my counter suggestion as it pertains to forced storage in sunless places.

Kimball: Adopt some of the relevant rules that govern lawyers in the Province of Nova Scotia (similar rules exist in all Canadian jurisdictions).

Lehmberg: ...Does this not raise the hair on the back of ~your~ neck, reader?

Kimball: A good place to start would be Chapter 13 of the Nova Scotia Legal Ethics and Professional Conduct Handbook - "Duties to Other Lawyers."
Lehmberg: ...A better place to start is in the direction to a UFO UpDates list server who has performed flawlessly for almost a decade and was quite competent before the inauspicious arrival of Paul Kimball and is likely only improved afterwards.

Kimball: "A lawyer has a duty to treat and deal with other lawyers courteously and in good faith."

Lehmberg: A person has a duty to treat and deal with other persons courteously and in good faith, Mr. Kimball. You would, in your perspicacious and perfect wisdom try to legislate common sense and good will? You sneer, belittle, mock, and insult your betters insistently and obnoxiously, and then have the temerity to lecture on "courteousness and good faith"? Pause for riotous laughter, Sir! You took your Phil Klass lessons well...

Kimball: Substitute "ufologist" for "lawyer."
Lehmberg: Mr. Kimball would be in no way pleased with my substitution for "lawyer."

Kimball: That doesn't mean an end to spirited disagreements about theories, or evidence, or even the question of the existence or non-existence of life on other planets / in other dimensions. What it does mean is an end to the petty bickering and the personal attacks on people who might hold views other than your own.
Lehmberg: Crap-o-rama! What it would mean in your perfect little world (not even existing in your own head I'll bet) is that you would only be able to get away more easily with what you accuse, I suspect.

Kimball: After all, one can criticize the position a person holds without criticizing the person. Educated, rational and mature adults understand that.

Lehmberg: Educated, rational and mature adults understand when you piss on their legs and call it rain, Mr. Kimball. You just think you have a right to perform same... imo.

Kimball: So, for everyone willing to conduct themselves as adults, it's time to stand up and be counted.
Lehmberg: That's right folks... ...you know what you have to do. Speak the truth to power and tell the rest to buss your derriere!
Kimball: Past sins and transgressions should be considered water under the bridge. Let everyone - Mr. Lehmberg and Mr. Jay included, if they agree - begin with a clean slate, should they accept the basic rule set out above.
Lehmberg: Mr. Kimball! ...Put me in the same sentence with that artless little bastard again, Sir... and I'll parse the reason why from your literary hide! ...You follow?

Kimball: Let the focus be on the issues, the cases, and the evidence, from hereon in.
Lehmberg: Swimmies? Long walk? Short peer?

Kimball: Consider me the first person to step forward.
Lehmberg: ...Followed by a long fall, a huge splash, and then furtive little grunty splishes as Cartman makes his way back to shore.

Kimball: I hope I won't be the last.
Lehmberg: ...Last hot flash? You've only stepped forward once for the predicted three steps back. Verily, you are not the solution, Sir. You are the personification of the real problem: ready support for the suspect status quo reflexively dismissing UFOs and the easy justification for a mainstream that cannot respect Richard Hall (by way of example) without itself being destroyed.
Step off, "Eric." Just... Step off.